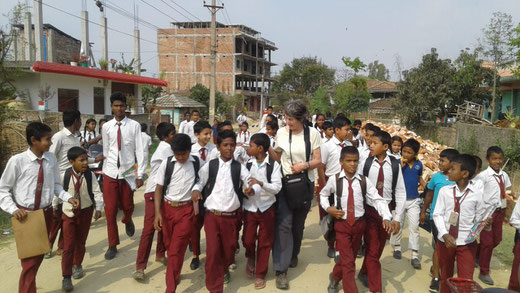 In April of 2019, I joined Patron Nepal's Individual Volunteer Program as part of the Sustainable Volunteer Development Program called 'The Best Two Weeks Volunteer Program'. That is an ambitious title, but I have to say that it describes my experience perfectly.
In those 10 days, travelling with Nishchal by bus, jeep, tuk-tuk, and motorcycle to the flat lowlands area of south-eastern Nepal, I had a wonderful series of visits to rural towns and villages where Nishchal hopes to establish his 'social cause' program. We visited a medical hospital, a leprosy hospital, and an eye hospital. We explored temples, including the Janaki Mandir in Janakpur, and attended a traditional Newar ihi ceremony. We visited several schools for which Nishchal hopes to recruit volunteers to help with ESL teaching. It was exam time for the students followed by holidays, which meant any volunteering I may have done did not happen, which was just as well, since I am not a teacher.
In Nishchal's home village of Khadakatol, we stayed in his parents' house. Although very basic (from a North American perspective), it was comfortable and plenty adequate. We enjoyed the national meal of dal bhat and other local cuisine at a friend's house down the street. From there we visited the surrounding four villages, were offered copious cups of 'milk tea' by the friendly villagers, and met some of the people who had benefited from the 1-day eye camp that Nishchal had arranged with the Hetauda Eye Hospital. I also witnessed the wheat and pigeon pea harvest, visited the fish ponds and vegetable gardens near the village, saw a brick factory on the edge of the village, walked and drove through forests, and stopped briefly to see the lake at Nadi Man. During the days in the villages and surrounding area, I got an unparalleled insight into daily life on the plains of the Terai, an area known as the granary of Nepal.
All in all, the whole period was a rich cultural immersion experience, truly an 'experience of a lifetime.' I don't think there are any other organizations that offer something quite like this.
Thank you, Nishchal. Blessings on you.

Eleanore Woollard, Canada